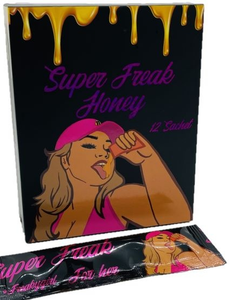 Super Freak Honey Sexual Enhancement
Super Freak Honey for sexual enhancement.
Increase your super freak. Super Freak Promotes natural lubrication for the ultimate Super Freak action. Super Freak frenzy climax SF is Super Freak approved. Super Freak Honey solo play or fun play with your partner. Super Freak Intimate Youth for Her. Increases desire. Strengthens without feeling tired. Boosts self confidence due to a stable performance. Increases different and multiple levels. of orgasm. Decreases issues and illnesses in the woman's reproductive system.
Usage: take one packet one hour before sexual activity to aid energy, libido sexual performance. Super Freak Honey can be used on a regular basis to maintain a peek condition. For best results take Super Freak one hour apart from taking supplements or medication.
Consult a physician if you have heart problems. Discontinue use immediately if any undesirable effects occur. Keep out of reach of children. Store in a cool dry place.
Do not use more than one Honey every 60 hours. Honey last 72 hours. Supplement facts: Servings per container 12. Serving size 1 packet 15g e or approximately .52 ounce. Calories 45. Total Carbohydrates 12g. Honey 14.4g. Caviar Powder 225mg. Tongkat Ali Root 225mg. Cinnamon Powder 150mg. Percent of daily values not established.