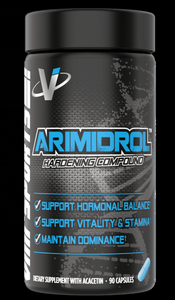 VMI: Arimidrol, 60 Capsules
What is Arimidrol? 
Arimidrol is an aromatase inhibitor and cortisol blocker which can be taken both on and off cycle which promotes a dry, hard, and sculpted physique. Armidrol is hormone control in a capsule.
What Does VMI Sports Arimidrol Do?
Inhibits Aromatase
This supplement uses the most potent all natural aromatase inhibtors to stopthe conversion of testosterone to estrogen.
Inhibits Cortisol
Arimidrol also helps to keep cortisol levels under control which in turn lowers stress and muscle breakdown. 
Estrogen Destroyer
VMI Sports Arimidrol contains powerful anti-aromatase and cortisol blockers to stock estrogen production in the body.
Promotes Lean Muscle Growth
Lowering estrogen levels naturally boosts test levels which leads to better muscle growth and faster muscle recovery. 
How to Take Arimidrol?
Take 2 caps, 20-30 minutes prior to a mea, or physical activity. Do not exceed 2 capsules in any 24 hour period. 
VMI Sports Arimidrol Supplement Facts & Ingredients
Serving Size: 2 Capsules
Servings Per Container: 30
Astragalus 4:1 Extract 250mg
(Astragalus membranaceus (root)) (Equivalent to 1,000mg of whole herb)
Acacetin 100mg
(4'-methoxy-5'7-dihydroxyflavone) (Chrysanthemum indicum L.)
*Percent Daily Value based on a 2,000 calorie diet.
*Daily Value (DV) Not Established
Other Ingredients: Gelatin (capsule), Microcrystalline Cellulose, Magnesium Stearate, and Silicon Dioxide.
Warning
For use as a dietary supplement only by healthy adults 18 years of age or older. Do not use if you are pregnant, nursing, or may become pregnant. Do not consume if you have a pre-existing condition, or if you are taking any prescription medication. Please consult a physician prior to use. Do not use if safety seal is broken. Use only as directed and do not exceed recommended dosage. 
Caution
Athletes or others who are subject to testing for performance enhancing drugs may test positive when using dietary supplements. All persons are advised to contact their drug testing organization prior to use of this or any other supplement.