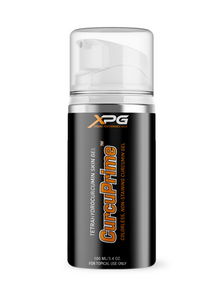 XPG: CurcuPrime, 100ml
Curcumin Skin Gel
CurcuPrime™ Tetrahydrocurcumin
100 mg. per ml
100 mg. CurcuPrime™ per ml
10 grams CurcuPrime™ per bottle

CurcuPrime™ Gel is a topical Tetrahydrocurcumin product that contains 100 mg. per ml. (10 grams per bottle).

What is Tetrahydrocurcumin?
Tetrahydrocurcumin (4-HC) is a major metabolic constituent of curcumin that's commonly believed to be responsible for many of curcumin's benefits.

The CurcuPrime™ Advantage:
CurcuPrime™ Tetrahydrocurcumin is a branded ingredient from NNB Nutrition.
CurcuPrime™ is 100% naturally sourced and is extracted for purity and consistency from batch to batch.

NNB's CurcuPrime™ put a positive spotlight on Tetrahydrocurcumin and already generic versions of this ingredient may be available. Buyer beware – while generic versions of some ingredients may be the same or close to the same as their branded counterparts, this ingredient is notoriously hard to extract and NNB reports having already found some generics using proprietary blends rather than pure 4-HC and purifications as low as 70% and potencies that may vary from batch to batch.

CurcuPrime Gel – No Orange Coloration or Staining:

CurcuPrime™ Gel is a specialized version that is off-white in appearance to allow for no orangish color or
staining, unlike some other topical curcumin products.
THE FUTURE OF CURCUMIN SUPPLEMENTS
What is CurcuPrime®?
Tetrahydrocurcumin (4-HC) is a major bioactive derivative of curcumin, and it's also given credibility as the engine behind all that curcumin brings to the table. Not only does THU provide similar – if not stronger – properties as curcumin but it also helps overcome the poor bioavailability and solubility issues associated with curcumin and THU is colorless 4-HC, which means it is non-staining and broadens its scope of applications.
CurcuPrime Benefits
Better Solubility
Longer Half-Life
More Bioactive
Increased Neuroprotection
Decreased Blood Sugar